Biotium offers innovative solutions for protein detection and analysis. Jump to a section below to learn more:
For superior signal to noise in fluorescent western
Antibody conjugates of our best-in class NIR dyes
Super-sensitive & linear near-IR protein quantitation in gels or blots
Prestained protein markers, buffers, & detergents
TrueBlack® WB Blocking Buffer Kit
The TrueBlack® WB Blocking Buffer Kit is a ready-to-use buffer system for fluorescence-based western blotting (WB). The buffers yield optimal specificity and sensitivity by blocking non-specific interactions of dye-labeled antibodies with proteins and the blotting membrane.
TrueBlack® WB Blocking Buffer Kit Features
Blocks as well or better than Odyssey® Blocking Buffer, at a lower price
Reduces non-specific protein bands and background over entire membrane
Suppresses background from charged dyes better than BSA, gelatin, or casein
Compatible with PVDF and nitrocellulose membranes
Contains no mammalian proteins, for broad antibody compatibility
For visible and near-IR fluorescent westerns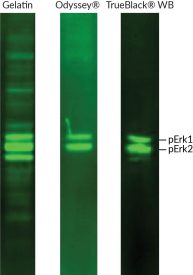 Superior western blocking for next-generation fluorescent dyes
Non-specific signal in WB can arise from multiple sources, including antibody cross-reactivity with off-target proteins, non-specific antibody adsorption to the membrane, and membrane autofluorescence. Another potential cause of background is the effect of fluorescent dyes themselves on the specificity of labeled antibodies. Highly charged dyes like Alexa Fluor® or CF® dyes have improved solubility and brightness of conjugates compared to uncharged dyes. However, the extra charge carried by antibodies labeled with these dyes can result in non-specific binding to proteins and membranes. The TrueBlack® WB Blocking Buffer Kit blocks background from multiple sources including charged dye conjugates (Figure 2). TrueBlack® blocking buffer is especially advantageous for phosphoprotein detection, significantly improving specificity compared to conventional blocking buffers (Figure 1).
Switch from Odyssey® Blocking Buffer and save
TrueBlack® WB Blocking Buffer performs as well or better for fluorescent WB compared to LI-COR's Odyssey® Blocking Buffer (Figure 1), and is priced lower on a per membrane basis.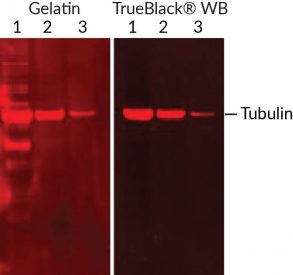 Compare TrueBlack® WB Blocking Buffer Kit with Odyssey® Blocking Buffer
Number of membranes if Odyssey® Blocking Buffer is used for each blocking and antibody dilution step. TrueBlack® WB Blocking Buffer Kit includes enough buffers for all blocking and antibody incubation steps for the stated number of membranes. LI-COR and Odyssey are registered trademarks of LI-COR Inc.
VIEW & PURCHASE
TrueBlack® WB Blocking Buffer Kit – 10 membranes
TrueBlack® WB Blocking Buffer Kit – 50 membranes
Near-IR CF® Dye conjugates for western blotting
Near-infrared (near-IR) western detection is highly sensitive, and offers advantages of wider linear range and multiplexing capability compared to chemiluminescence detection (see our webinar to learn more). Biotium's near-IR CF® dyes are the brightest and most photostable available. Learn more about CF®680 and CF®770 dyes for near-IR western, In Cell Western®, and other applications.
We offer wide selection of primary and secondary antibodies conjugated to our exceptional near-IR CF® dyes for western blot. We also offer HRP conjugates for chemiluminescence detection.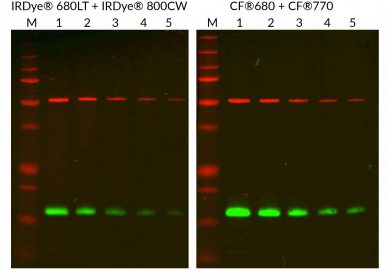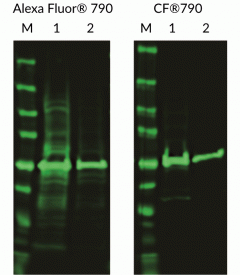 Near-IR CF Dye Secondary Antibodies for Multiplex WB
Please click on the download button below to order from a wide of range of CF Dyes. Please email the form to sales@atlantisbioscience.com
Don't see what you're looking for? Contact us! We may be able to add a new conjugate to our catalog, or perform a custom labeling for you.
Bv: bovine, Ck: chicken, GP: guinea pig, Gt: goat, Hs: horse, Hu: human, Ms: mouse, Rb: rabbit, Rt: rat, SHm: Syrian hamster, Shp: sheep, Sw: swine
VersaBlot™ Near-IR Total Protein Normalization Kits
VersaBlot™ Total Protein Normalization Kits allow simple, sensitive and highly linear protein quantitation on SDS-PAGE gels and western blot membranes. The kits allow you to label purified proteins or cell lysates with our near-infrared CF® dyes before running the samples on SDS-PAGE. Proteins can then be visualized on a gel or membrane using a fluorescent gel scanner, allowing detection of as little as 1 ng protein per band. If desired, the prestain can be reversed after scanning, facilitating downstream multi-color western blot analysis. The staining demonstrates excellent linearity for quantitation of total protein over a wide dynamic range, outperforming traditional western blot normalization based on housekeeping protein detection.
VersaBlot™ Total Protein Prestain Features
Reversible prestain for downstream multi-color western blot analysis
Superior linearity for western normalization compared to housekeeping proteins
Highly sensitive protein quantitation on PAGE gels or western membranes
Fast and simple labeling of proteins or lysates, no purification required
Detect as little as 1 ng protein and 10% difference in protein content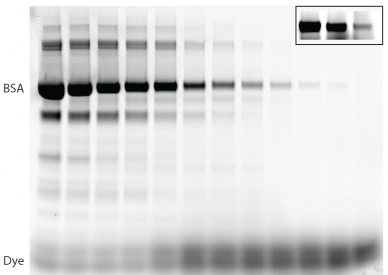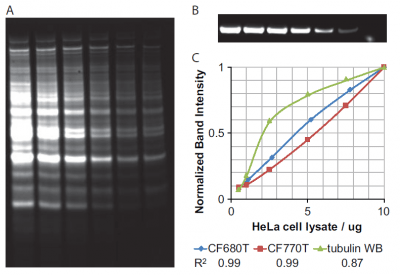 Product Information
Typhoon is a trademark and Cy dye is a registered trademark of GE Healthcare; Odyssey is a registered trademark of LI-COR Biosciences.
Accessory Reagents for Western Blotting
See our selection of prestained markers, buffers, blocking agents, detergents, and other reagents and accessories below.
Product Information
Cubitainer is a registered trademark of The Hedwin Division; Odyssey is a registered trademark of LI-COR, Inc; TWEEN is a registered trademark of Croda International PLC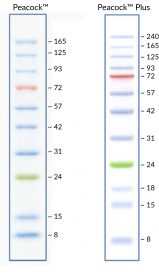 ---