One-Step Protein Gel Stains
Low-cost, rapid, non-toxic protein gel stains
Alternative to tedious Coomassie blue staining
One-Step Lumitein™ & One-Step Lumitein™ UV
Replacements for costly and time consuming SYPRO Ruby and Oriole stains
Our One-Step protein gel stains are low-cost, quick, convenient and easy-to-use for protein gel (SDS-PAGE) staining. Staining is quick: 5 to 60 min in a single step without fixation or washing. These stains have non-toxic formulations for safer handling and easy disposal. One-Step stains are certified under CCR Title 22 as non-toxic to the environment for drain disposal after a simple pH neutralization step.
The One-Step stains are compatible with Edman-based sequencing and with mass spectrometry.
100% H2O-based formulation
NO stinky acetic acid
NO toxic methanol
NO microwaving
NO washing
NO fixing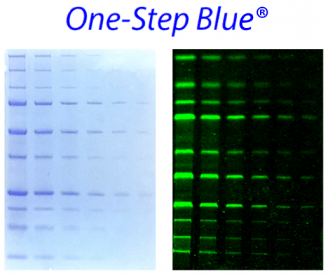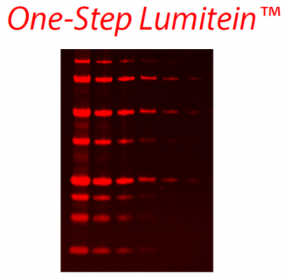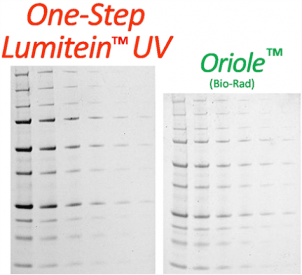 Product Information
One-Step Blue is a registered trademark of Biotium.
Lumitein and its related technologies are covered by US and international patents.
SYPRO is a registered trademark of Molecular Probes, Inc.
Oriole and Flamingo are trademarks of Bio-Rad Laboratories.