Real-time apoptosis detection
Substrate doesn't interfere with apoptosis progression.
For flow cytometry, microscopy, or live cell imaging.
Fast, simple, and fixable
Homogenous, no wash 15-30 minute assay.
Formaldehyde-fixable nuclear staining.
Blue fluorescent NucView® 405
Green fluorescent NucView® 488
Orange fluorescent NucView® 530
NucView® Caspase Substrates
NucView® Caspase-3 Substrates are novel fluorogenic substrates developed by Biotium to detect apoptosis in intact cells in real-time. Biotium has invented a new concept in the design of fluorogenic enzyme substrates. The enzyme substrate is attached to a fluorogenic DNA dye. Before cleavage, the dye is non-fluorescent and unable to bind to DNA. Upon enzymatic cleavage of the substrate, the dye is released and becomes capable of binding to DNA to emit fluorescence. In the case of NucView® Caspase-3 Substrates, the caspase-3 substrate peptide DEVD is attached to a DNA-binding dye. The substrate enters the cell cytoplasm where it is cleaved by caspase-3 in apoptotic cells to release the fluorogenic DNA dye, which stains the nucleus. Unlike FLICA assays that use irreversible inhibitors to label active caspases, NucView® Caspase-3 Substrates do not interfere with caspase activity, allowing monitoring of caspase activity in real time.
Features
Simple, homogenous assay for endpoint assay or real-time detection in live cells
Non-toxic, allowing for multi-day experiments
Detect caspase-3 activity and visualize apoptotic nuclear morphology
For flow cytometry, fluorescence microscopy, or live cell imaging systems
Available as stand-alone substrates or in kits with other apoptosis or necrosis probes
Available with blue, green, or red fluorescence
NucView® 488 validated in more than 100 cell types and 200 publications – See the list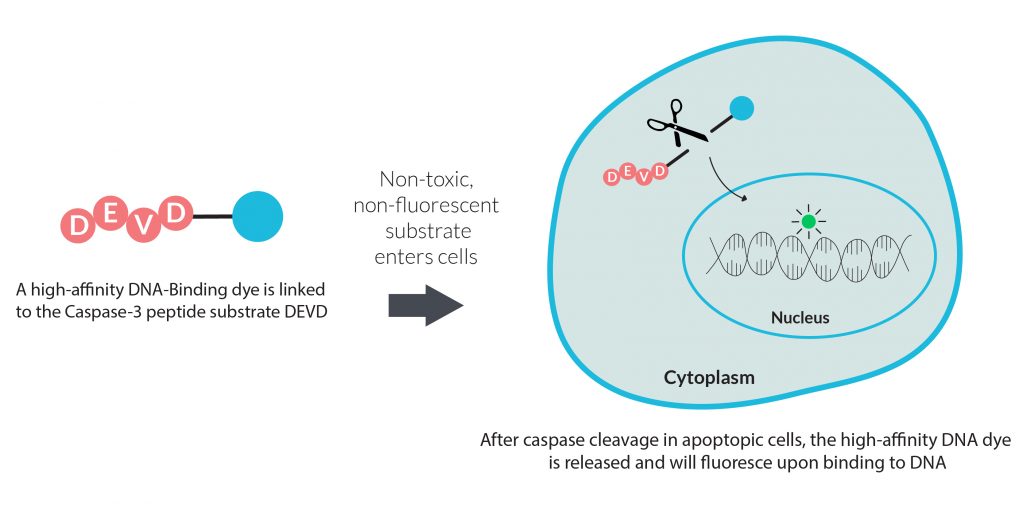 NucView® 488 Caspase-3 Enzyme Substrate in action. HT-1080 cells were treated with camptothecin and NucView® 488 Caspase-3 Substrate and imaged every 30 minutes for 24 hours on the IncuCyte® Zoom. Apoptotic cell nuclei fluoresce green as NucView® 488 dye is released by caspase-3 cleavage. Video courtesy of Essen Biosciences.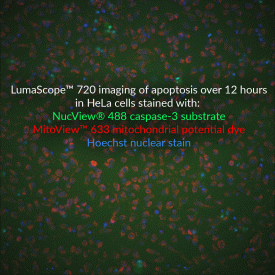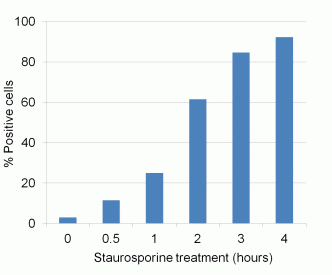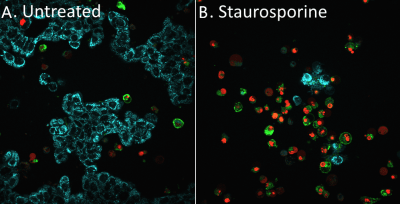 Please click on the download button below to order from a wide of range of NucView® Caspase-3 substrates. Please email the form to sales@atlantisbioscience.com