ibidi offers several specialized products that are ideal for analyzing the impact of viruses on cells. In addition, as a consequence of the current COVID-19 pandemic, the establishment of physiologic lung models are of critical importance. Below, you will find relevant ibidi solutions and related publications in this line of research.
We are looking for collaborators: please contact us at info@ibidi.de,
if you would like to cooperate with ibidi on a specific application.
ibidi Products for Virology Research: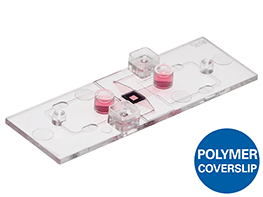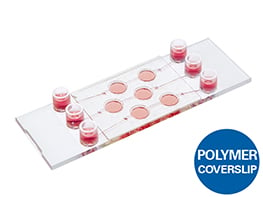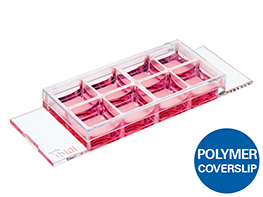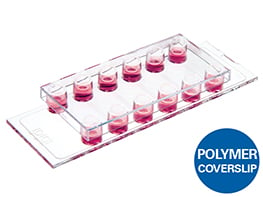 References: Virology Research Using ibidi Products
For more than 18 years, ibidi has been helping in many areas of virology research, resulting in hundreds of virology-related publications that cite ibidi solutions. These articles can be found in our reference database.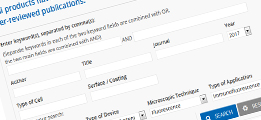 µ-Slide Membrane ibiPore Flow
A µ-Slide with a porous glass membrane, suitable for the establishment of lung models with air-liquid interface (ALI)
Find more details and ordering information here.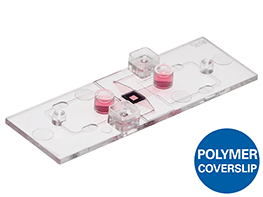 The μ-Slide Membrane ibiPore Flow consists of a horizontal porous glass membrane that is inserted between two channels. The upper channel is a static reservoir above the membrane. The lower channel is a perfusion channel for applying defined shear stress on cells, which are attached to the membrane. The upper and the lower channel communicate with each other only across the membrane.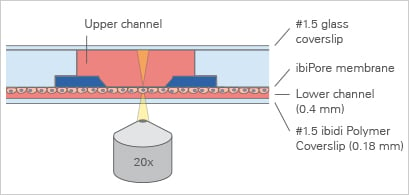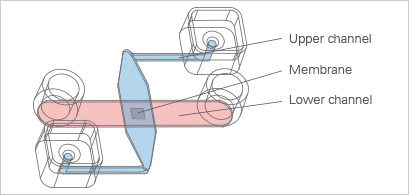 Lung Models with Air-Liquid Interface (ALI)
To create a lung model with an air-liquid interface (ALI), a polarized cell monolayer (e.g., lung epithelial cells) is seeded on one side of the porous membrane that is exposed to air. From the lower channel, the cells are supplied by culture medium under defined shear stress.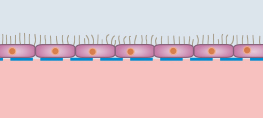 Cells on upper side of the membrane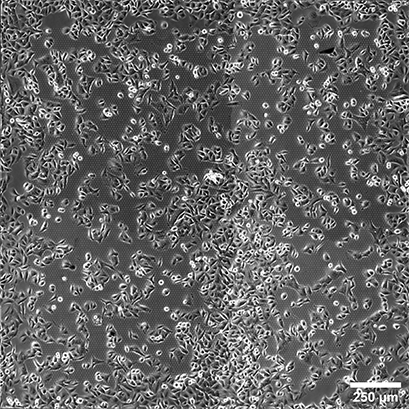 Cells on lower side of the membrane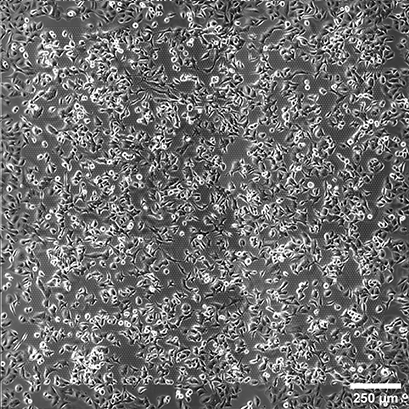 Phase contrast microscopy of A549 lung cells (adenocarcinomic human alveolar basal epithelial cells) cultured on the µ-Slide Membrane ibiPore Flow, pore size 3 µm, 5% porosity. Left: cells were seeded on the upper side of the membrane. Right: cells were seeded on the lower side of the membrane. Data by Dr. Anita Reiser, Chair of Prof. Rädler, Ludwig-Maximilians-University Munich.
µ-Slide III 3D Perfusion
A µ-Slide with three channels, ideal for the long-term cultivation of cells and tissues (e.g., lung tissue from biopsies) in 3D matrices with an optimal nutrient supply
Find more details and ordering information here.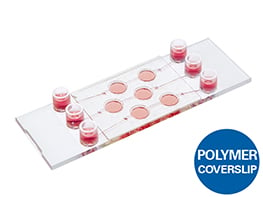 µ-Slide 8 Well
A chambered coverslip with 8 wells for everyday cell culture, immunofluorescence, and high-end microscopy; suitable for a variety of virology-related assays
Find more details and ordering information here.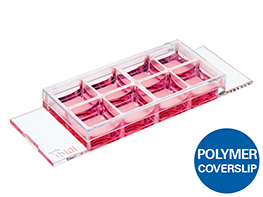 Selected References
L. Wendt, J. Brandt, B. Bodmer, S. Reiche, M.L. Schmidt, S. Traeger and T. Hoenen. The Ebola Virus Nucleoprotein Recruits the Nuclear RNA Export Factor NXF1 into Inclusion Bodies to Facilitate Viral Protein Expression. Cells, 2020, 10.3390/cells9010187.
Read article
J.K. Millet, F. Kien, C.Y. Cheung, Y.L. Siu, W.L. Chan, H. Li, H.L. Leung, M. Jaume, R. Bruzzone, J.S. Peiris, R.M. Altmeyer and B. Nal. Ezrin interacts with the SARS coronavirus Spike protein and restrains infection at the entry stage. PLoS One, 2012, 10.1371/journal.pone.0049566.
Read article
S. Pfefferle, V. Krähling, V. Ditt, K. Grywna, E. Mühlberger and C. Drosten . Reverse genetic characterization of the natural genomic deletion in SARS-Coronavirus strain Frankfurt-1 open reading frame 7b reveals an attenuating function of the 7b protein in-vitro and in-vivo. Virology Journal, 2009, 10.1186/1743-422X-6-131.
Read article
µ-Slide VI 0.1
A six channel µ-Slide for parallel flow assays and immunofluorescence that uses a minimal amount of reagents and medium
Find more details and ordering information here.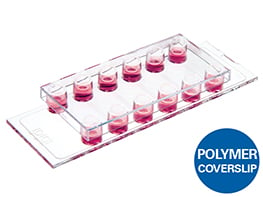 Selected Reference
Robb and colleagues have recently published a novel single-particle tracking assay for a variety of enveloped viruses using the ibidi µ-Slide VI 0.1. This assay helps to detect and count viruses via fluorescence microscopy after just adding a mixture of DNA, CaCl2, and fluorophores to the virus. The procedure even works at low titers, which are present in clinical samples.
N.C. Robb, J.M. Taylor, A. Kent, O.J. Pambos, B. Gilboa and A.N. Kapanidis. Rapid functionalisation and detection of viruses via a novel Ca2+-mediated virus-DNA interaction. Scientific Reports, 2019, 10.1101/629303.
Read article
Read on and learn more about ibidi Prototypes for Virology Research that are currently in development.