Biotium is proud to support COVID-19 research by offering the following assay development solutions.
Primary and secondary antibodies, antibody labeling kits and flow cytometry accessories
EvaGreen® qPCR dyes, qPCR master mixes, viability PCR, nucleic acid quantitation kits and RNA isolation kits
Reagents for western blotting, protein gel staining, and thermal shift stability assay
Featuring pH-dependent lysosome stains and other organelle specific stains
---
IMMUNOASSAY DEVELOPMENT
As COVID-19 becomes more widespread, development of immunoassays becomes critical for broad serological testing of individuals who carry antibodies against SARS-CoV-2. These assays rely on accurate detection of human IgG or IgM antibodies that bind to viral antigens. We offer several high-quality secondary antibodies, including anti-human IgG, IgM, and IgA secondary antibodies suitable for fluorescent or enzyme-based detection methods. We also have a collection of over 1000 monoclonal primary antibodies that can be used to detect and characterize induced cytokines, inflammation, and other immunological responses associated with COVID-19 infection.
Secondary Antibodies
Biotium offers a wide selection of highly cross-adsorbed secondary antibodies conjugated to fluorescent CF® Dyes, enzymes and fluorescent proteins.
Highly cross-adsorbed: Minimal cross-reactivity with other target species for multiplex staining
Large choice of labels: 20 bright and photostable CF® Dyes, HRP, AP, R-PE, APC, or biotin
Versatile: Antibodies suitable for ELISA, immunofluorescence, immunohistology, and flow cytometry
Custom conjugations: Custom orders for other CF® Dye labels are available upon request. Please contact technical support for inquiries.
Browse secondary antibodies, search with Antibody Finder, or see secondary antibody product listings with catalog numbers.
Primary Antibodies
Biotium has a growing collection of over 1000 monoclonal antibodies validated for IHC, flow cytometry, and other applications.
Validated in IHC and other applications
Large choice of labels: 13 bright and photostable CF® Dyes, R-PE, APC, PerCP, HRP, AP, or biotin
Size options: 100 uL to 500 uL sizes available
Also available unlabeled, BSA-free (ready-to-use for Mix-n-Stain™ labeling)
Browse primary antibodies, or search with Antibody Finder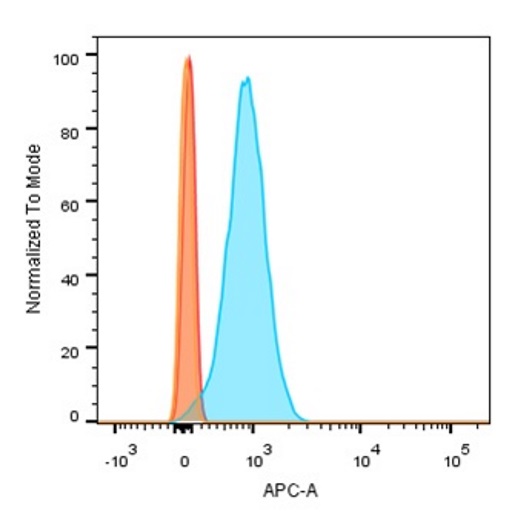 Mix-n-Stain™ Antibody Labeling Kits are particularly useful if custom labeling or specific antibody conjugates aren't readily available. These kits provide efficient and versatile antibody or protein labeling in as little as 30 minutes with minimal hands-on time.
Patented buffer system for optimal labeling and brighter conjugates
Versatile: Labeling tolerates BSA, Tris, gelatin, trehalose, azide, and ascites fluid
Flexible: Kit options for labeling < 5 ug antibody and up to 1 mg
Efficient: 100% antibody recovery, no purification required.
Choice: Label with ~30 CF® Dyes, HRP, AP, R-PE, APC, PerCP, and biotin
Biotium offers many reagents for analyzing cellular viability and proliferation by flow cytometry. Our Live-or-Dye™ kits contain fixable dead cell stains available in 12 bright colors. Our ViaFluor® dyes are cell-permeable, non-toxic dyes that are useful for long-term cell labeling and cell division tracking. The novel NucView® Caspase-3 Substrates are the only caspase substrates for real-time apoptosis detection.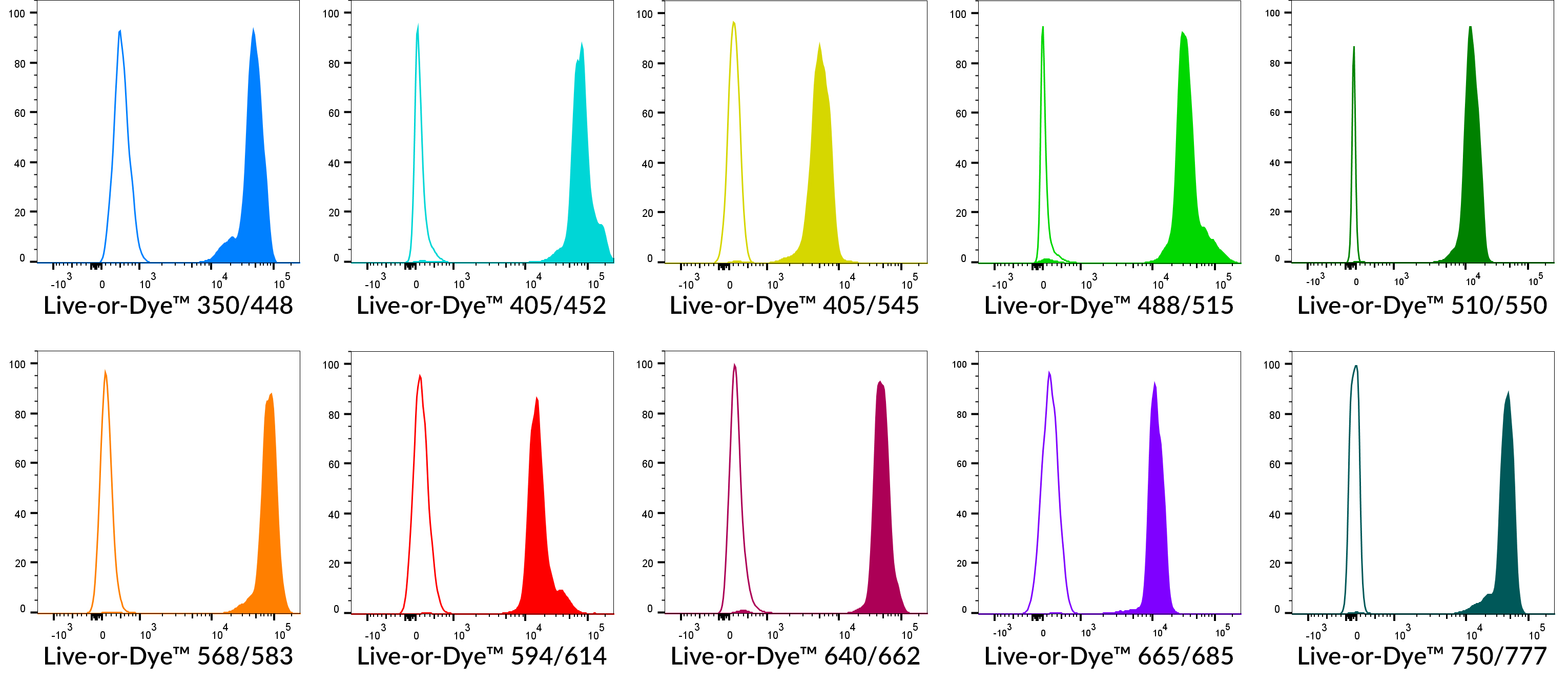 We also offer several common reagents and accessories to support immunoassay development on flow cytometry platforms.
MOLECULAR STUDIES AND DIAGNOSTICS
EvaGreen® & EvaGreen® Plus: Next-Generation qPCR Dyes
EvaGreen® & EvaGreen® Plus are industry-leading DNA binding dyes that are ideal for qPCR, digital PCR, LAMP, and HRM analysis.
Superior performance: Brighter and less inhibitory than SYBR® Green I for qPCR and isothermal amplification (such as LAMP)
Versatile: Suitable for droplet digital PCR (ddPCR), microfluidic digital PCR systems, capillary gel electrophoresis, and more
High-resolution melt analysis: The only dye that allows you to perform qPCR and HRM analysis in the same reaction
Safe: Non-mutagenic and non-cytotoxic

Hot-Start EvaGreen®-based qPCR Master Mixes
Forget-Me-Not™ qPCR Master Mixes feature high-performance EvaGreen® Dye and Cheetah™ HotStart Taq DNA Polymerase as well as two-color tracking for convenient and efficient workflows.
Ready-to-use: Just add primers and DNA template
Optimized: Featuring our superior EvaGreen® Dye and formulated with Cheetah™ HotStart Taq for fast cycling protocols
Convenient: 2-color tracking to prevent waste and other costly mistakes
Available with no ROX, high or low ROX, for use with any PCR instrument
We also offer Forget-Me-Not™ Universal Probe qPCR Master Mix for high performance probe-based PCR applications such as TaqMan® and dual-labeled BHQ® probe assays.

Molecular biology applications such as NGS require sensitive and selective quantitation. AccuBlue®, AccuGreen®, and AccuClear® are fluorescent quantitation kits with industry-leading sensitivity, accuracy, and versatility.
Quality: Accurate and sensitive detection ideal for NGS and other applications
Ultrasensitive: Kit options for detecting down to 1 pg DNA or 5 ng RNA
Versatile: Options for fluorescent plate reader or Qubit® fluorometer
Selective: All kits have high selectivity for DNA or RNA
Best Value: Economical kits with exceptional quality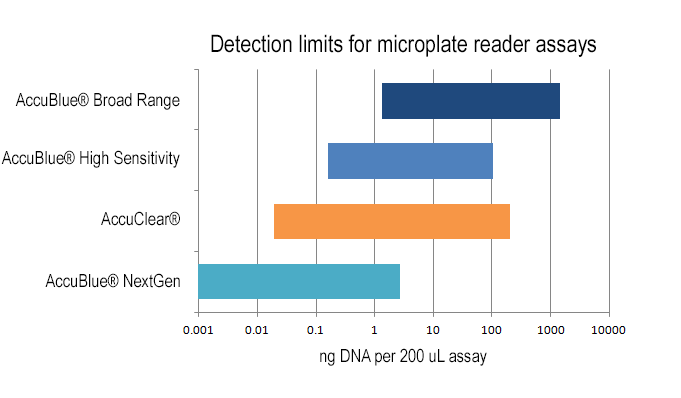 PMA and PMAxx™ Viability PCR Dyes
Viability PCR is a powerful technology for the sensitive and rapid detection of viable microorganisms. Unlike time-consuming culturing methods, qPCR is a fast and sensitive method of detection. PMA and PMAxx™ have been validated in a wide variety of viruses, as well as yeast and bacteria (see PMA & PMAxx™ References).
Specific: Obtain accurate viability information for targeted microorganisms in mixed cultures through primer-based specificity
Rapid and Sensitive: Convenient PCR-based workflows for fast and ultrasensitive quantification
Validated: v-PCR with PMA has been cited in hundreds of publications and several viruses including Hepatitis A, Norovirus, and enteroviruses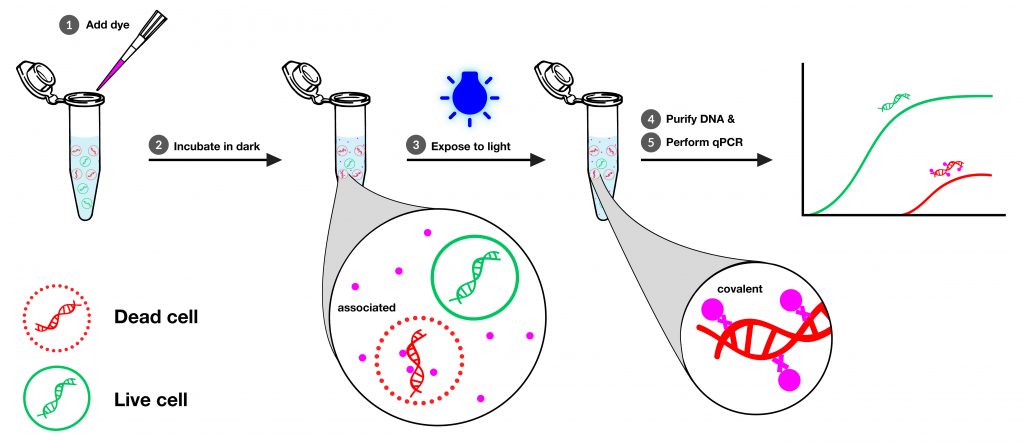 The RNAstorm™ RNA Isolation Kit allows purification of high quality total RNA from either cultured cells or fresh tissue in as little as 20 minutes. High yields (up to 120 μg) can be obtained using a simple and quick column-based protocol. Contaminating DNA is removed using a DNase treatment step, and the protocol avoids toxic chemicals such as phenol or chloroform.
Quality: High quality total RNA suitable for next-generation sequencing (RNA-Seq), RT-PCR, cDNA synthesis, and microarrays
Convenient: Simple 20 minute workflow yielding up to 120 μg of RNA
DNase treatment included
No phenol-chloroform and no ethanol precipitation required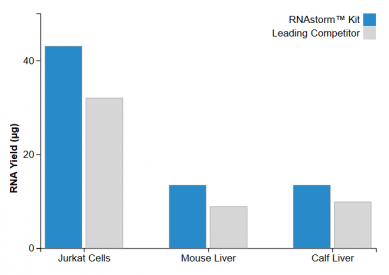 Vaccine and Antibody Characterization
Research and development towards COVID-19 vaccines and therapeutics is moving at an incredible pace, indicative of an unprecedented global research effort in both scale and speed. Several preclinical and Phase I drug candidates are either therapeutic antibodies or recombinant protein-based vaccines which require rigorous characterization prior to testing in in vivo models. Biotium continues to support this pipeline by offering several high-quality and cost efficient reagents for expression analysis and characterization of recombinant proteins.
Our One-Step stains are efficient, economical, and non-toxic protein gel stains. Staining is robust and rapid, requiring as little as 5 minutes in a single step without fixation or washing. One-Step stains are compatible with downstream applications including Edman-based sequencing and mass spectrometry.
One-Step Blue®: A visible blue stain that is a safer and less hazardous Coomassie alternative with comparable sensitivity
One-Step Lumitein™: A red fluorescent stain at lower cost than SYPRO® Ruby, with comparable sensitivity
One-Step Lumitein™ UV: A non-toxic and rapid red fluorescent protein gel stain optimized for UV transilluminators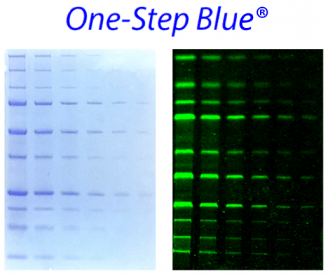 We offer a broad selection of reagents and tools for western blotting including classic and novel blocking reagents, buffers, total protein prestains, and prestained protein ladders. View our Western Blotting technology page for more info.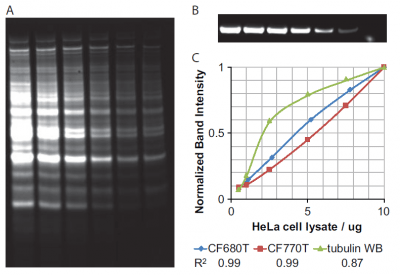 The GloMelt™ Thermal Shift Protein Stability Kit is a low cost and rapid solution for analyzing protein thermal stability on PCR instruments.
Universal: Green fluorescence optimal for qPCR instruments
Versatile: Compatible with high detergent concentrations and tolerates a wide pH range, reducing agents, and common buffers/excipients
Scalable for High Throughput Studies: Compatible with low reaction volumes and low protein concentrations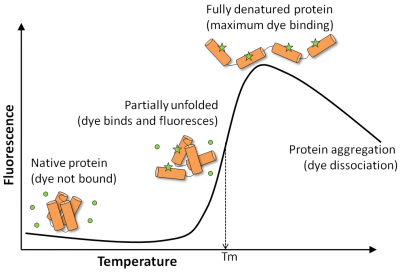 Our ViVoBrite™ Rapid Antibody Labeling Kits are ideal for preparing fluorescently labeled antibodies for in vivo imaging in small animals. Each kit contains one of our superior Near-IR CF® dyes which offer highly specific detection and strong tissue penetration for in vivo imaging. Learn more about Biotium's superior Near-IR CF® dyes.
Each kit contains sufficient reagents for 3 labeling reactions of 1 mg each
Available with four industry-leading near-IR CF® dyes
Includes buffers, ultrafiltration vials and syringe filters for labeling and purification
CELLULAR STAINS
We offer a wide array of cellular stains for studying the disease state and cell response associated with COVID-19. Our novel stains for lysosomes, microtubules, and mitochondria are particularly useful for analyzing broad cellular changes during infection.
A key mechanism for infection by coronaviruses such as SARS-CoV-2 is the hijacking of endocytic processes that facilitate viral membrane fusion. Lysosomes play a critical role in these processes, particularly lysosome proteases which activate coronavirus spike proteins for viral entry into cells (Zheng et. al). LysoView™ dyes are lysosome specific, pH-sensitive fluorescent stains for live cells and are available in blue, green, visible red, and far-red fluorescence. These stains may be particularly useful for studying SARS-CoV-2 tropism with respect to lysosomes as well as analyzing cellular responses to potential therapeutics in vitro.
Specific: Highly-selective lyosomotropic dyes that accumulate in acidic organelles
Convenient: pH-dependent fluorescence in live cells without a wash step
Choice: Available in 5 colors from blue to far-red fluorescence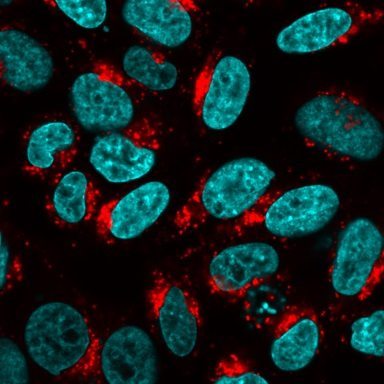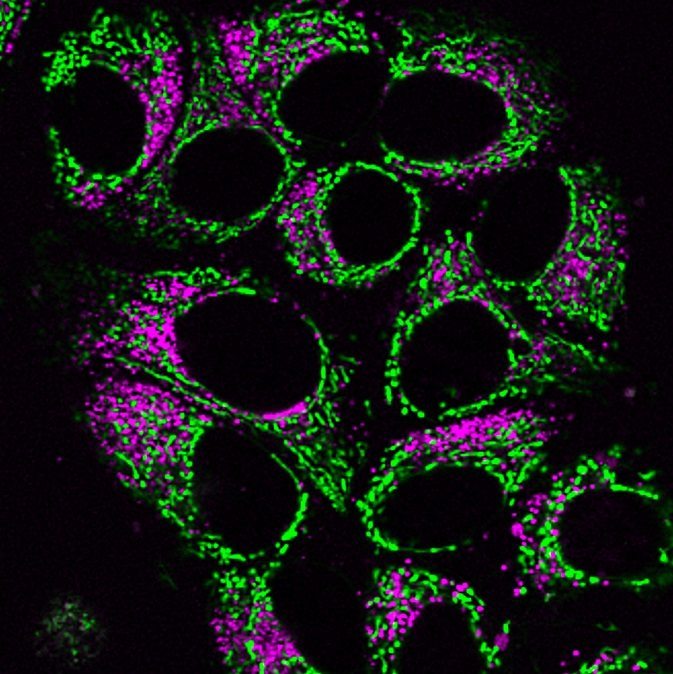 Other Cellular Stains
See our full selection of novel and classic cellular stains for organelles and other cell structures.
Mitochondria: MitoView™ dyes are membrane potential-dependent and -independent mitochondria stains available in 5 colors
Nucleus: NucSpot™ and RedDot™ nuclear stains for live or fixed cells available in a variety of colors
Cell Surface: Our line of CellBrite™ and MemBrite™ cell surface stains accommodate a broad range workflows for imaging in live or fixed cells.
Microtubules: ViaFluor™ live-cell microtubule stains are cell-permeable microtubule probes for visualizing cytoskeleton. CF® Dye phalloidin conjugates are also available for staining actin filaments in fixed cells.
Browse our full selection of cellular stains or view our Cellular Stains Selection Guide.