Orange dye optimized for the 543 nm laser
Much brighter than Alexa Fluor® 546
Highly water soluble & insensitive to pH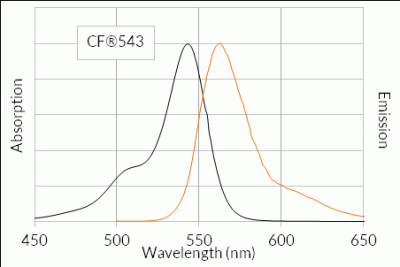 CF®543 is an orange fluorescent dye with absorption and emission maxima at 541 and 560 nm, respectively (Figure 1). The dye is based on a new class of rhodamine dyes invented by Biotium scientists. Unlike traditional rhodamine dyes, CF®543 is not only bright and photostable but also highly water-soluble. As a result, CF®543 antibody conjugates retain excellent solubility and yield the brightest fluorescence among spectrally similar dyes like Alexa Fluor® 546 (Figure 2). See CF®543 product lines below.
CF®543 Technical Summary
Abs/Em maxima: 541/560 nm
Extinction coefficient: 100,000
Molecular weight: ~870
Laser line: 532 nm, 543, or 546 nm
Direct replacement for: Alexa Fluor® 546, Tetramethylrhodamine (TAMRA)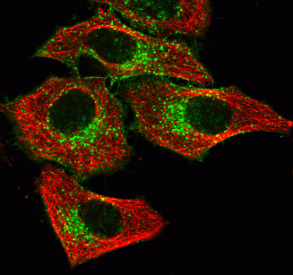 CF is a registered trademark of Biotium, Inc; Alexa Fluor is a registered trademark of Thermo Fisher Scientific.
CF® Dye Spectrum:
CF®350 Dye
CF®350 is a blue fluorescent dye
Technical Summary
Abs/Em Maxima: 347/448 nm
Extinction coefficient: 18,000
Molecular weight: ~ 496
Excitation source: UV
Replaces: Alexa Fluor® 350, AMCA,
DyLight® 350
Features
Brighter and more photostable than AMCA
Direct replacement for Alexa Fluor® 350
Highly water soluble and pH-insensitive
CF®405S Dye
Improved brightness & photostability for the 405 nm laser line
Technical Summary
Abs/Em Maxima: 404/431 nm
Extinction coefficient: 33,000
Molecular weight: ~ 1,169
Excitation laser line: 405 nm
Replaces: Alexa Fluor® 405, Cascade Blue®,
DyLight® 405
Features
Brighter than Alexa Flour® 408
CF®405M Dye
Improved brightness & photostability for the 405 nm laser line
Technical Summary
Abs/Em Maxima: 408/452 nm
Extinction coefficient: 41,000
Molecular weight: ~ 503
Excitation laser line: 405 nm
Replaces: Pacific Blue®, BD Horizon™ V450
Features
More photostable than Pacific Blue®, with less spill-over in the green channel
An excellent choice for super-resolution imaging by SIM
CF®405L Dye
A 405 nm-excitable dye with orange fluorescence emission
Technical Summary
Abs/Em Maxima: 395/545 nm
Extinction coefficient: 24,000
Molecular weight: ~1573
Excitation laser line: 405 nm
Replaces: Pacific Orange®
CF®430 & CF®440 Dyes
Photostable 405 nm-excitable dyes with green fluorescence
Technical Summary
CF®430
Abs/Em Maxima: 426/498 nm
Extinction coefficient: 40,000
Molecular weight: ~429
Excitation laser line: 405 nm
Replaces: Pacific Green®, BD Horizon™ V500,
Krome Orange™
CF®440
Abs/Em Maxima: 440/515 nm
Extinction coefficient: 40,000
Molecular weight: ~716
Excitation laser line: 405 nm
Replaces: Alexa Fluor® 430
Features
Photostable dyes suitable for microscopy
Perfect match for the CFP filter set
Suitable for flow cytometry in the AmCyan channel
Highly water soluble and pH-insensitive
CF®450 Dye
A green fluorescent dye with unique spectral properties
Technical Summary
Abs/Em Maxima: 450/538 nm
Extinction coefficient: 40,000
Molecular weight: ~689
Excitation laser line: 405 nm
CF®488A Dye
A superior green fluorescent dye
A superior green fluorescent dye
Technical Summary
Abs/Em Maxima: 490/515 nm
Extinction coefficient: 70,000
Molecular weight: ~914
Excitation laser line: 488 nm
Replaces: Alexa Fluor® 488, DyLight® 488,
fluorescein (aka FITC, FAM), Cy®2
Features
Minimally charged, for less non-specific binding than Alexa Fluor® 488
Narrower emission spectrum for less bleed to red
Very photostable
Compatible with super-resolution imaging by TIRF
Highly water soluble and pH-insensitive
CF®503R Dye
A unique green dye or multispectral detection or FRET
Technical Summary
Abs/Em maxima: 503/532 nm
Extinction coefficient: 90,000
Molecular weight: ~1100
Excitation laser line: 488 nm
Direct replacement for: ATTO 488
CF®514 Dye
Alternative green fluorescent dye
Technical Summary
Abs/Em Maxima: 516/548 nm
Extinction coefficient: 105,000
Molecular weight: ~1216
Excitation laser line: 488 nm
Replaces: Alexa Fluor® 514
Features
Image using the same settings as FITC or CF®488A
Can be distinguished from CF®488A in the same specimen by spectral imaging and linear unmixing
CF®532 Dye
A bright orange fluorescent dye for the 532 nm laser
Technical Summary
Abs/Em Maxima: 527/558 nm
Extinction coefficient: 96,000
Molecular weight: ~ 685
Excitation laser line: 532 nm
Direct replacement for: Alexa Fluor® 532, Atto 532
Features
Designed for the 532 nm laser
Brighter than Alexa Fluor® 532
Highly water-soluble and pH-insensitive
CF®535ST Dye
An orange fluorescent dye designed for STORM super-resolution imaging
Technical Summary
Abs/Em Maxima: 535/568 nm
Extinction coefficient: 95,000
Molecular weight: ~728
Excitation laser line: 532 nm
CF®543 Dye
An orange fluorescent dye ideal for the 543 nm laser
Technical Summary
Abs/Em Maxima: 541/560 nm
Extinction coefficient: 100,000
Molecular weight: ~ 870
Excitation laser line: 532 nm, 543 nm, or
546 nm
Direct replacement for: Alexa Fluor® 546,
TAMRA
Features
Optimized for the 543 nm laser
Yields the brightest conjugates among spectrally similar dyes
Highly water-soluble and pH-insensitive
CF®550R Dye
A unique orange/red dye for multispectral detection or FRET
Technical Summary
Abs/Em maxima: 551/577 nm
Extinction coefficient: 100,000
Molecular weight: ~686
Excitation laser line: 532 nm or 568 nm
CF®555 Dye
A bright and photostable orange-red dye
Technical Summary
Abs/Em Maxima: 555/565 nm
Extinction coefficient: 150,000
Molecular weight: ~ 901
Excitation laser line: 532 nm or 568 nm
Direct replacement for: Alexa Fluor®
555, ATTO 550, Cy®3, DyLight® 549,
Rhodamine
Features
Brighter than Cy®3
Highly water-soluble
Validated in multicolor STORM super-resolution imaging
CF®568 Dye
Outshines Alexa Fluor®568
Outshines Alexa Fluor®568
Technical Summary
Abs/Em Maxima: 562/583 nm
Extinction coefficient: 100,000
Molecular weight: ~ 714
Excitation laser line: 532 nm or 568 nm
Direct replacement for: Alexa Fluor® 568,
ATTO 565, Rhodamine Red
Features
Yields much brighter antibody conjugates than Alexa
Fluor® 568
Extremely photostable
Excellent choice for multi-color imaging with CF®488A and CF®640R
Compatible with TIRF and multicolor STORM super resolution imaging
CF®570 & CF®583 Dyes
Bright red fluorescent dyes
Technical Summary
CF®570 Technical Summary
Abs/Em maxima: 568/591 nm
Extinction coefficient: 150,000
Molecular weight: ~2998
Excitation laser line: 561 to 568 nm
Replaces: Alexa Fluor® 568, ATTO 565, DY-560, Rhodamine Red
CF®583 Technical Summary
Abs/Em maxima: 583/606 nm
Extinction coefficient: 150,000
Molecular weight: ~3127
Excitation laser line: 561 to 568 nm
Replaces: Cy®3.5
CF®594 Dye
Truly the brightest deep red dye
Technical Summary
Abs/Em Maxima: 593/614 nm
Extinction coefficient: 115,000
Molecular weight: ~730
Excitation laser line: 532 nm, 568 nm or
594 nm
Replaces: Alexa Fluor® 594, DyLight® 594,
Texas Red®
Features
Yields the brightest antibody conjugates among spectrally
similar dyes.
Excellent choice for multicolor imaging with green dyes like CF®488A
Extremely photostable
Also see CF®594ST, a version of CF®594 engineered specifically for STORM microcopy
CF®594ST Dye
Deep red dye for STORM
Technical Summary
Abs/Em maxima: 593/614 nm
Extinction coefficient: 115,000
Molecular weight: ~868
Excitation laser line: 532 to 568 nm
CF®620R Dye
A bright and photostable far-red dye
Technical Summary
Abs/Em Maxima: 617/639 nm
Extinction coefficient: 115,000
Molecular weight: ~ 738
Excitation laser line: 633 nm or 635 nm
Replaces: LightCycler® Red 640
Features
Highly water-soluble
Highly fluorescent and extremely photostable
Absorption/emission at 617/639 nm for use in FRET or multi-color detection
CF®633 Dye
The best dye for 633/635 laser lines
Technical Summary
Abs/Em Maxima: 630/650 nm
Extinction coefficient: 100,000
Molecular weight: ~820
Excitation laser line: 633 nm or 635 nm
Replaces: Alexa Fluor® 633, Alexa Fluor®
647, Cy®5, DyLight® 633, DyLight® 649
Features
Yields the brightest antibody conjugates among spectrally similar dyes
Far more photostable than Alexa Fluor® 647
Compatible with TIRF, FIONA, and gSHRImP super-resolution imaging methods
CF®640R Dye
A highly photostable far-red dye
A highly photostable far-red dye
Technical Summary
Abs/Em Maxima: 642/662 nm
Extinction coefficient: 105,000
Molecular weight: ~ 832
Excitation laser line: 633 nm, 635 nm or
640 nm
Replaces Alexa Fluor® 647, ATTO 647N,
Cy®5, DyLight® 649
Features
Best photostability among Cy®5-like dyes
Yields highly fluorescent protein conjugates
Compatible with TIRF and FLIMP super-resolution microscopy
CF®647 Dye
A highly fluorescent far-red dye
Technical Summary
Abs/Em Maxima: 650/665 nm
Extinction coefficient: 240,000
Molecular weight: ~ 1058
Excitation laser line: 633 nm, 635 nm or
640 nm
Replaces: Cy®5, Alexa Fluor® 647,
DyLight® 649
Features
Brighter than Cy®5
Highly water soluble and pH insensitive
Validated in multi-color super-resolution imaging by STORM
CF®660C and CF®660R Dyes
Superior alternatives to Alexa Fluor® 660
Technical Summary
CF®660C
Abs/Em Maxima: 667/685 nm
Extinction coefficient: 200,000
Molecular weight: ~ 3112
Excitation laser line: 633 nm, 635 nm or 640 nm
Replaces: Alexa Fluor® 660, APC
CF®660R
Abs/Em Maxima: 663/682 nm
Extinction coefficient: 100,000
Molecular weight: ~ 888
Excitation laser line: 633 nm, 635 nm or 640 nm
Replaces: Alexa Fluor® 660, APC
Features
CF®660C Features
Much brighter and more photostable than Alexa Fluor® 660
Compatible with multicolor super-resolution imaging by STORM
CF®660R Features
Brighter than Alexa Fluor® 660
Unrivaled photostability among spectrally similar dyes
CF®680 and CF®680R Dyes
Two outstanding 680 nm-excitable dyes
Technical Summary
CF®680
Abs/Em Maxima: 681/698 nm
Extinction coefficient: 210,000
Molecular weight: ~ 3241
Excitation laser line: 680 nm or 685 nm
Replaces: Alexa Fluor® 680, Cy®5.5, IR®Dye 680
CF®680R
Abs/Em Maxima: 680/701 nm
Extinction coefficient: 140,000
Molecular weight: ~ 912
Excitation laser line: 680 nm or 685 nm
Replaces: Alexa Fluor® 680, Cy®5.5, IR®Dye 680
Features
CF®680 Features
The brightest among spectrally similar dyes
Validated in multicolor STORM and 3D super-resolution
microscopy
Compatible with LI-COR® Odyssey®
CF®680R Features
Unrivaled photostability among spectrally similar dyes
Compatible with STED and single molecule spectroscopy super-resolution imaging (see pp. 20-21)
Molecular weight compatible with nucleic acid labeling
Compatible with LI-COR® Odyssey®
Near-Infrared CF® Dyes
Choose from six unrivaled dyes with emission from 720 to 835 nm
Technical Summary
CF®700
Abs/Em Maxima: 695/720 nm
Extinction coefficient: 240,000
Molecular weight: ~ 2315
Excitation laser line: 633, 635, 680 or 685 nm
Replaces: Alexa Fluor® 700, DyLight® 700
CF®750
Abs/Em Maxima: 755/777 nm
Extinction coefficient: 250,000
Molecular weight: ~ 3009
Excitation laser line: 633, 635, 680 or 685 nm
Replaces: Alexa Fluor® 750, Cy®7, DyLight® 750
CF®770
Abs/Em Maxima: 770/797 nm
Extinction coefficient: 220,000
Molecular weight: ~ 3138
Excitation laser line: 785 nm
Replaces: DyLight™ 800, IRDye 800CW
CF®790
Abs/Em Maxima: 784/806 nm
Extinction coefficient: 210,000
Molecular weight: ~ 3267
Excitation laser line: 785 nm
Replaces: Alexa Fluor® 790
CF®800
Abs/Em Maxima: 797/816 nm
Extinction coefficient: 210,000
Molecular weight: ~3334
Excitation laser line: 785 nm
Spectrally similar to: Indocyanine Green
CF®820
Abs/EmMaxima: 822/835 nm
Extinction coefficient: 253,000
Molecular weight: ~2553
Excitation laser line: 785 nm
Features
Exceptionally bright and stable
Ideal for in vivo imaging
Compatible with LI-COR® Odyssey®
Superior signal-to-noise for bioconjugates
Dye options for STORM & photoacoustic imaging
CF® Dyes for Multi-Color Super-Resolution Microscopy
Features
CF Dyes validated in SIM, STORM, STED, TIRF, and more
Superior brightness, photostability, and photochemical switching
Single label antibody conjugates for STORM
Growing list of publications